---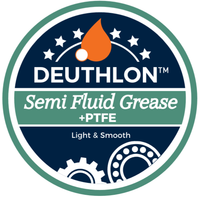 Sale
An innovative lubricant with the durability and lubrication properties of grease but the viscosity of an oil-based lubricant for lightness and low coefficient of friction. Specially formulated for the use of micro-bearings found in fishing reels.
Challenges:
Fishing reels are equipped with micro-bearings to provide power transmission with little effort needed to operate efficiently. This specifies a need for bearings to be lubricated with low viscosity lubrication. On the other hand, durability of bearings is vital for  prolonged operational efficiency, especially in poor operating conditions with frequent exposure to fresh or salt water.
Greases are known for there durability in lubricating bearings but have a poor coefficient of friction, which make bearings heavy to operate. Oil based lubricants provide a very low coefficient of friction for bearings to operate as light as possible but offer poor  durability.
Deuthlon's Semi Fluid Grease strikes a perfect balance between durability and low coefficient of friction for use in bearings and light load gears found in fishing reels.
Advantages of Deuthlon Semi Fluid Grease:
Super low coefficient of friction - for light and smooth operation.

Consistency of grease - durability rivalling conventional greases.

Dust-ShieldTM technology - minimizes dust/dirt attraction – the worst enemy of grease. 

Superb adhesion on substrates with its unique Polarized technology.

Excellent water-resistance, sealing and corrosion-resistant properties.
Features:
Superior adhesion - polarized technology
Super low viscosity - light & smooth
Dust-ShieldTM technology - minimizes dust/dirt attraction, greases worst enemy
Anti-seizure - will not harden
Nontoxic, Eco safe - solvent free makes this grease safe on rubber, plastics, and soft metals