---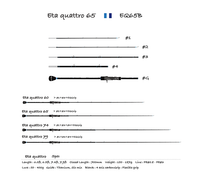 Length: 6.0, 6.5, 7.4, 7.9ft (Irregular 3-4 pieces @ 4 patterns)
Closed length: 700mm
Top guide: Titanium Torzite
Guide: Titanium, SiC composite guide 
Blank: 4-axis carbon
The second offshore rod of TRANSCENDENCE. Eta quattro65B+ (Eta quattro).
Four years have passed since the release of the Laulau83GT-S, and the Eta quattro65B+ has finally taken shape. This bait jigging rod is a multi-piece rod built on the premise of domestic and overseas offshore expeditions.
Eta quattro considers portability in a suitcase as top priority. The closing dimension is 700mm. It has a size that can be stored in checked baggage. This decision was made because there are few fields that need to fit in a normal carry-on size.
EQ65B+ has been developed with a focus on jig operability and sensitivity necessary for slow pitch jerk. Fields where EQ65B is required are mainly expedition destinations, and conditions vary from shallow to deep. In the midst of the need to respond to various situations, there are things that can be done because it is a multi-piece rod. 
The EQ65B+ is like a baton that is an extension of your arm. The EQ65B+ blanks have the operability and lightness that allow you to mend the line that leads to the jig, and the reaction force that allows you to follow the weight of the jig and move the jig naturally according to the resistance.
EQ65B+ can change the length to 6ft, 6.5ft, 7.4ft, 7.9ft in combination. It can handle a wide range from shallow to mid-deep water, and can also handle long falls in situations where long fall jerk is required.