---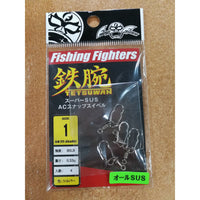 Hate tackle failure? Get Fighing Fighter Tetsuwan! Strongest snap tested. Without sacrifice the weight like other brands. It still remains light even being the strongest snap.

These are mainly used for luring/ jigging / baiting. It is important to use a strong snap when luring because the snap is the nearest connection point to the snap with required great strength to ensure that it doesn't open when challenging a big fish.

We realise it is difficult to get a snap and swivel combination that is strong and trustworthy in the market. This time we are proud to have found one of the best combination that is designed for luring and jigging. The unique design of the snap enables free play in the lure to prevent action being affected.
A swivel in being used in luring to prevent line twisting. Breakage of lines during casting or fishing is sometimes due to line twist.
Size 000    40lb/0.14g/4pcs    -  Lure weight from 1gram to 10gram+
Size 00      50lb/0.15g/4pcs    -  Lure weight from 5gram to 15gram+
Size 0        60lb/0.28g/4pcs    -  Lure weight from 8gram to 28gram+
Size 1        80lb/0.33g/4pcs    -  Lure weight from 12gram to 35gram+
Size 2        130lb/0.67g/4pcs    -  Lure weight from 20gram to 50gram+
Size 3        180lb/0.78g/4pcs    -  Lure weight from  30gram to 100gram+